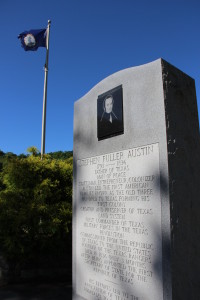 Millions of Americans are familiar with famed Texan Stephen F. Austin, the man who secured his place in history as the "Father of Texas."
Most people, however, are unaware that the "Father of Texas" not only hails from Virginia, but also Wythe County.
 Born November 3, 1793, in what is now Austinville, Virginia, Stephen Fuller Austin was the second child of Moses Austin and Mary Brown Austin.  Moses, born in 1761, was originally from Connecticut.  He and his brother moved to eastern Wythe County in August 1789 with intentions of founding a lead mines on the banks of the New River.
The two worked to establish several smelters, furnaces, commissaries, blacksmith shops, liveries, and mills. The tiny village around the mines became known as "Austinville," and Moses came to be known as the "Lead King."
 According to historians, the Austin brothers were "excellent shot makers and miners, but they were not very good businessmen.  Their business grew too quickly, and their finances were in disarray."
Burdened by debt, the brothers are said to have looked westward, toward the rich lead deposits in Missouri; then a part of upper Spanish Louisiana.
In 1797 Moses traveled with a friend to Missouri, where he toured and eventually purchased a lead mines about forty miles west of the Mississippi River.
The following year, Moses Austin, his wife, four-year-old son and several others – forty in all – left Wythe County in search for a brighter future in Missouri.
Nearly two decades later, however, the Austin's again relocated to the largely unsettled expanse of Texas.
Stephen's father had hopes of colonizing the region.  Sadly, Moses died in 1821 having never realized his dream of settling the vast territory.
Persuaded by a letter from his mother, Wythe County native, Stephen F. Austin set out to continue his father's dream.
Under Austin's leadership, the Texas colony grew from three-hundred to over 11,000 by 1832.
Fearing the large number of American settlers now crossing into Texas, Mexican government officials sought to discourage the colonists by introducing immigration controls and tariff laws.
In July of 1833 Austin traveled to Mexico City in hopes of gaining reforms, as well as convincing government officials to lift their ban on immigration.  Though partly successful in his efforts, Austin returned to Texas only to discover the situation had worsened.
Soon the colonists found themselves in a state of war with the Mexican government.
Austin briefly commanded Texan forces in late 1835.  Under his leadership, colonists secured a decisive victory near modern-day San Antonio, during the Siege of Bexar.
In the spring of 1836 Texas' sovereignty was officially recognized and the war for Texas independence was over.
In August, Austin announced his candidacy to serve as the new nation's first president.
Unfortunately for Austin, he was soundly defeated by another Virginia native, Sam Houston.
As President of Texas, one of Houston's first moves was appointing Austin to serve as the nation's first secretary of state.
Tragically, Austin would serve only two months before dying unexpectedly, after catching a severe cold in December 1836.
The Wythe County native's last words were, "The independence of Texas is recognized!" Upon hearing of Austin's death, President Houston ordered an official statement proclaiming: "The Father of Texas is no more; the first pioneer of the wilderness has departed."
Today, Austin's birthplace is officially marked by a memorial.  The large stone, located just a few hundred feet south of the New River, rests inside the Stephen F. Austin Memorial Park.
Just a few hundred feet to the north of the monument is a boat drop-in site to the New River.
To the south, runs the New River Trail, a 57-mile linear park that follows an abandoned railroad track.  The park parallels the scenic and historic New River for 40 miles and passes through four counties. The trail's gentle slope makes it great for visitors of all ages to hike, bike and ride horseback. Several places in the park provide horse, canoe and bike rentals, boat launches and gift shops. Fishing is popular and primitive camping sites dot the trail.
-Jeremy T.K. Farley