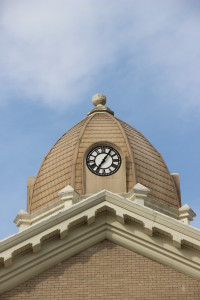 On the morning of June 28, 2013, the Wythe County Board of Supervisors held its bi-monthly meeting inside the Wythe County Administration Building.
Following citizen's time, the Board voted to adopt the proposed tax rates for calendar year 2013. The rates leave real estate, merchants' capital and machine & tools taxes at their present rates. The personal property tax rates, however, were slightly increased from $2.08 to $2.27 per $100 of assessed value.
Sam Crockett, Wythe County's Treasurer, gave his monthly report to the board.
"Overall, our collection rates are fairly good this year," says Crockett.
Board members then discussed ongoing issues within each of their districts.
Joe Hale, representing the Fort Chiswell District, stated that he has received complaints from residents who say motorists are driving too fast on Fox Mountain Road. Hale requested the Sheriff's Department to increase patrols in the area.
Afterwards, Sheriff Doug King updated the board as to his department's latest news.
King announced that an automatic call attendant has been added to the sheriff's telephone number (223-6000) that handles administrative calls.
According to King, the number has continued to receive emergency calls and the automatic call attendant will direct emergency callers to dial 911. He states that individuals wishing to contact the sheriff's department with non-emergency calls are still encouraged to call 223-6000.
The Sheriff also stated that his department has received the outcome of a recent law enforcement and critical needs assessment.
The study, funded by the Wythe–Bland Foundation, was performed by a consultant that is recognized by the Commonwealth of Virginia's Department of Criminal Justice Services.
The Sheriff requested the Board of Supervisors accept the report as presented.
The Sheriff closed his report to the Board of Supervisors by speaking of a new Virginia law requiring county sheriffs and municipal police chiefs to issue permits to junk metal "dealers."
Sheriff King says the law requires individuals who "regularly engage" in selling scrap metal to purchase a permit from local law enforcement.
The Virginia law requires said individuals to be fingerprinted and subjected to a background check, which cannot yield a felony conviction within the last three years.
According to King, homeowners removing materials from their own property, those who pick up aluminum cans beside the road and several other individuals are exempt from the law.
The Sheriff encourages individuals who believe they may be defined as a dealer to contact his office.