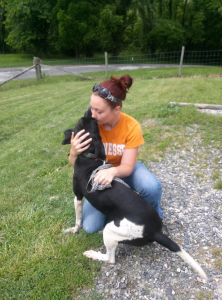 When your goal is reaching as many people as possible, Facebook is a pretty good place to start – with over one billion users, the website has a larger population than all but two of the world's countries.
Tabitha Jackson, a worker at Wythe County's Animal Control Building, has been taking advantage of social media in an effort to ensure the greatest number of dogs in the county's care are adopted.
Since Jackson came onboard in January 2012 the county has worked to create an active presence in online communities – a move she says has helped tremendously in reaching perspective pet owners.
"Facebook has allowed us to reach out to a larger network of people than we ever before thought possible.  Because of the county's online presence, our dogs have been transferred to humane organizations in Pennsylvania, New York and South Carolina."
Each week she posts pictures of new dogs onto the county dog shelter's Facebook page.  Those photos are initially seen by the shelter's more than 900 followers, who then share the photos and news updates with their friends and followers.  Through Facebook alone, the shelter averages reaching over 8,000 different people weekly.
In addition to using Facebook, Jackson also maintains an account on PetFinder.com – a website whose stated mission is "to increase public awareness of the availability of high-quality adoptable pets," and "increase the overall effectiveness of pet adoption programs across North America…"
Those interested in adopting a pet are encouraged to check out the shelter's Facebook page:
Facebook.com/WytheCoDogShelter or give the shelter a call during hours of operation: 276-228-6003.  Dogs are also listed in the Trade Times each week.
The shelter is open to the public Monday through Saturday 3 to 5 p.m. and open from 11 a.m. to 2 p.m. on Monday, Tuesday, Thursday and Friday; Saturday 10 a.m. to 12 p.m. Visitation at other times is by appointment only.
There is a $20 fee associated with adopting each dog and state law requires dogs over the age of six-months to be spayed or neutered within thirty days of adoption.
-Jeremy T.K. Farley