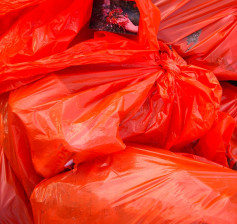 At the request of the Wythe County Board of Supervisors, a greater number of inmates from the New River Valley Regional Jail will be spotted picking up litter alongside county roadways.
According to Keith Dunagan, Chief Deputy for the Wythe County Sheriff's Office, the Board has secured as many as eight inmates from the regional jail to work six hours every Saturday along county roads.
In the past, inmates from the regional jail have typically worked in Wythe County only one day each month.  Dunagan says, "If the weather holds up, local residents can now expect to see inmates working every Saturday – year round."
"In the days to come, as new inmates become qualified to work outside the jail, we hope to expand the program to include additional litter pick-up days."
The program began this past weekend, when inmates collected over fifty bags of trash beside Fort Chiswell Road.
County officials are encouraging local residents to offer their input, regarding roads which stand in most need of clean up.  Concerned citizens are asked to contact their district's Supervisor or email the county at info@wytheco.org.