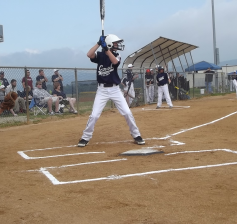 WYTHEVILLE, Va. – Despite what were at times torrential downpours, Wythe County Parks and Recreation officials remain honored to be hosting this year's District 1 Dixie Youth All-Star Tournament.
The ongoing event at Ager Park is now entering its fourteenth day and has been delayed numerous times by inclement weather.
Just hours after the most recent flashflood watch had expired, a very resolved Wythe County Parks & Recreation Director, Gary Cody, stated, "We're excited to be hosting the tournament. It's given us an opportunity to showcase Wythe County to hundreds of people throughout our region."
Sixteen teams total have been competing in the event, participating in one of two tournaments – the AAA tournament for those aged 9-10 and the OZONE tournament for players 11-12 years-old.
Winners of these tournament games will advance to a regional and then state championship tournament.
According to Cody, the economic impacts of hosting these coveted tournament games are huge.
"Each of the sixteen teams has twelve players and three coaches, which when you begin to add up parents, spouses and fans it's plain to see that this tournament is spurring several hundred additional transactions for local businesses each day."
Praising field crews and volunteers who have dedicated countless hours in readying the fields after each deluge over the past two weeks, Cody said, "It has been a collaborative effort between volunteers and staff members to make this event a success," adding, "Our field crews have done a phenomenal job to ensure each time players take to the field, the playing surface is as good as it possibly can be."
Barring any additional rain delays, the tournament is slated to end this Saturday.
-Jeremy T.K. Farley