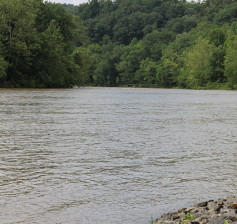 The heavy rains which have fallen on our area in recent days have caused elevated water levels to saturate certain local roadways. This saturation has created instances of roadway ponding.
Though most, if not all of these roadway ponding areas have since been cleared of water, the county wishes to remind local motorists to exercise caution when approaching these areas.
According to the National Weather Service, "Most flood-related deaths and injuries could be avoided if people who come upon areas covered with water followed this simple advice: Turn Around, Don't Drown."
The county, in collaboration with VDOT is monitoring known roadway ponding areas in order to establish a plan to alleviate this problem in the future.
Should local residents know of specific areas prone to roadway ponding, the county is encouraging them to contact officials by calling (276) 223-4500 or by emailing the county at info@wytheco.org.