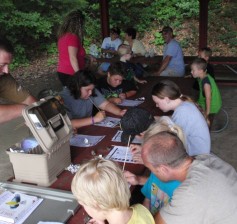 Earlier this month, the Wythe County Department of Parks and Recreation hosted a day long environmental education event aimed at providing local children opportunities to experience the thrills of the great outdoors.
Participants, all of whom were under the age of sixteen, were treated to multiple hands-on lessons taught by many of the region's premier outdoor teachers. Instructions included lessons in archery, casting, BB gun shooting and safety, and reptile identification.
The event, hosted at the Rural Retreat Lake, was the first of its kind and was sponsored in part by the National Wildlife Turkey Federation.
Additional activities included a butterfly display and lecture from Ellen Reynolds, owner of the Beagle Ridge Herb Farm & Environmental Education Center, an owl pellet dissectio...
Read More