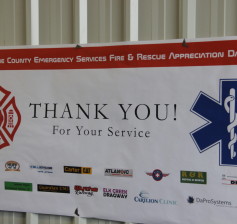 Members of Wythe County's emergency services were honored this past Saturday at the newly opened Wythe County Emergency Services Building, located in Fort Chiswell, Virginia.
The event, dubbed "Wythe County Emergency Services Fire & Rescue Appreciation Day," was the first of its kind and featured dozens of door prizes, a catered meal and additional gifts for all in attendance.
Organized by the Wythe County Administrator's Office, at the request of the county's Board of Supervisors, invitations were sent out to all six of the county's fire departments, as well as the county's three rescue squads.
"Today's event is a way for us to show our appreciation to Wythe County's emergency service members and their families. The hard work and long hours they put in says a lot about the type of people they are," said Tim Reeves, Wythe County's Supervisor At-Large.
Other board members in attendance expressed gratitude to the county's emergency workers and volunteers, including Supervisor Coy McRoberts, who thanked the departments for "the many times they've been there for my family over the years."
With well over one hundred in attendance and over fifteen sponsors, county leaders are calling the event a great success.
"We were overwhelmed at the level of support shown to us by local businesses, as well as several national corporations. Because of their help we were able to give away great door prizes to a very deserving group of people," says Ikey Davidson, Wythe County's Emergency Management Coordinator.
This year, the Board of Supervisors appropriated approximately $1.1 million toward the county's emergency services.
Click "Like" to Share This Article With Your Friends on Facebook!