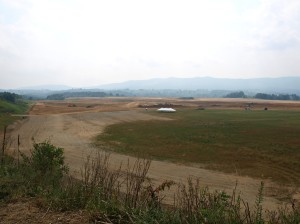 Today, Wythe County's Progress Park provides over 750 jobs to local citizens and delivers millions of additional dollars in revenue to the county each year; however, local officials are being proactive in seeing those numbers grow.
Thanks to a four-year project that moved approximately 3.5 million cubic feet of dirt, southwest Virginia's top industrial park has taken its place as the premier manufacturing site in the entire southeast.
Speaking to an audience of community leaders and businessmen, Mary Rae Carter, deputy secretary for the Virginia Department of Commerce and Trade, applauded Progress Park's newly completed mega-site known as Lot 24.
Describing the 232 acre lot as being "second to none," Carter stated, "You are all a model for rural Virginia communities. I see a lot of localities that are interested in becoming a global competitor, but they aren't willing to put their skin in the game."
The "ready-for-construction" pad is served by a Class – I rail line, boasts of a 16-inch water line with service from two directions, three 138kV electric transmission lines and three interstate high-pressure natural gas transmission lines.
"You simply can't find this level of infrastructure anywhere else in the Commonwealth," noted Artie Hall, West Wytheville's representative on the Wythe County Board of Supervisors.
Hall added, "A lot of folks are asking why the county has made such a large investment. The answer is very simple, because we're expecting a great return."
Supervisor Tim Reeves seconded Hall's comment, "When manufacturers go out looking for a suitable site to build their next factory, they don't have the time to wait five years for the site to be made ready for construction. We've gone through the hassle of getting the permits, grading and putting the infrastructure in place – so they can immediately get to work in providing jobs to local residents."
State leaders pledged their fullest support in attracting a large-scale, well-paying manufacturer to the site.
"The Virginia Economic Development Partnership is already marketing this site to consultants all over the globe. We're contacting companies in the United States, Asia and Europe. Many have already expressed interest in this site," announced Mike Lehmkuhler, Vice President of Business Development for the Virginia Economic Development Partnership.
Lehmkuhler added, "Not only do you have the best manufacturing site in Virginia, but you have the premiere manufacturing site in the entire southeast."