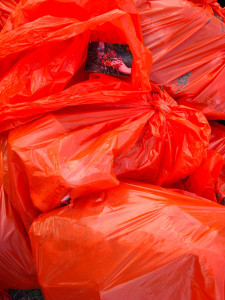 Earlier this summer, Wythe County officials established a partnership with the New River Valley Regional Jail in order to secure inmates for weekly trash pick-up duties throughout the county.
Two months into the effort, Sheriff's officers say the program is responsible for collecting approximately 11,130 pounds of litter along county roadways.
To put that number into perspective, it is equivalent to the weight of nearly 50 newborn elephants, 450 car tires, and 162,498 paper cups.
In addition to being responsible for cleaning the trash from at least one interstate exit, inmates are also tasked with picking up debris that collects along county roadways.
Keith Dunagan, Chief Deputy for the Wythe County Sheriff's Office, says the project has been an overwhelming success.
"The program has been very well received by the public. We're hearing great responses from local citizens who are happy to provide their input regarding which roads are most in need."
One of the things that make the program so unique is the level of public participation it encourages.
Local residents are encouraged to provide their input regarding roads which stand in most need of clean up. Concerned citizens are asked to contact their district's Supervisor or email the county at info@wytheco.org with their suggestions for road clean-up.
Click "Like" to share this article with your friends on Facebook!