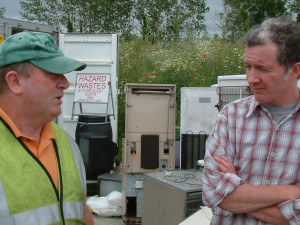 Wythe County residents are encouraged to bring their hazardous waste to the transfer station located at 169 Kents Lane (south entrance to Progress Park), this Saturday, between 9 a.m. and noon.
The annual hazardous waste day event will provide local citizens with an opportunity to dispose of their hazardous waste in a safe and environmentally conscious method – completely free of charge.
Acceptable waste items include household cleaners, pool chemicals, all automotive fluids, mercury products, herbicides, insecticides, all types of batteries, fluorescent lights, paint thinners and a variety of other products (a complete list of acceptable and unacceptable products may be found on the county's official website: www.WytheCo.org).
The event is open to Wythe and Bland County residents only.  Refuse from businesses, including home-based businesses will not be accepted.
For more information regarding Wythe County's Hazardous Waste Day, please contact Ikey Davidson at 223-6033.
Click LIKE to share this article with your friends on Facebook.