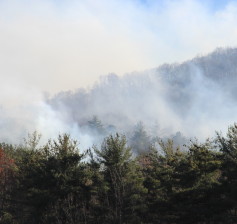 WYTHE COUNTY, Va. — The United States Forest Service hosted a town hall meeting Friday night in Speedwell, informing the public of the fire's scope and their progress in battling the blaze.  Click here to watch video of meeting.
Beth Merz, Area Ranger for Mount Rogers National Recreation Area, told the crowd of more than sixty residents that a fire of this magnitude was "unusual for Mount Rogers," adding "if it hadn't been for the willingness of a lot of folks in the Forest Service, our state partners, Wythe County, and especially our good neighbors at the Speedwell Volunteer Fire Department – supporting the efforts that are going on – I don't think we'd be very far along right now."
Wythe County spokesperson Jeremy Farley told the audience that throughout the entire incident the county has remained in close contact with the Forest Service in order to ensure private property remains safe.
"No structures whatsoever are in any danger.  The fire is on national forest property and is no threat to private property.  That's something we're very grateful for," concluded Farley, before acknowledging that smoke had been an issue for the community earlier that day.
Farley told county residents that the county was monitoring the smoke and had reached out to the Virginia Department of Environmental Quality earlier that day in an effort to be proactive.
The latest briefing county officials received from the US Forest Service occurred Saturday afternoon.  In that briefing, county officials were advised that the ground fire had burned approximately 1,088 acres and is expected to burn 1,400 acres total.
Fire crews were successful in establishing a line around the entire fire on Friday, and burnout operations were conducted to eliminate unburned fuel between established lines and the fire perimeter.  Significant progress was made in eliminating this unburned fuel; however, the fire will continue to burn through the weekend.  Fire crews are continuing containment efforts today, by improving existing lines.
Approximately 70 firefighters and support staff, including one 20-person initial attack crew, one dozer, one engine, and a helicopter are assisting with the fire.
An area closure is in effect beginning with the national forest boundary east of highway 21; National forest boundary north and west of CC Camp Road; National forest boundary south of Speedwell.  Forest Road 14 is closed to the public.
Smoke from a wildfire in North Carolina has mixed with smoke from the national forest fire in Speedwell, creating an increased inversion layer throughout southwest Virginia.  This combined smoke may be visible near Speedwell and surrounding areas for several days.
Click LIKE to share this article with your friends on Facebook.