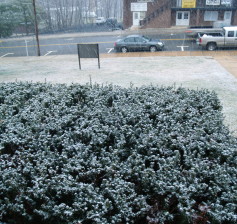 The National Weather Service issued a briefing Monday morning, warning Thanksgiving travelers to expect a wintery mix of sleet, snow and freezing rain.
According to the weather service, the wintery mix will change to freezing rain early Monday night / Tuesday morning.
The briefing also stated:
• Heavy rain Tuesday, greater than 2" possible.
• Snow developing Tuesday night/Wednesday, with moderate accumulations in the mountains.
• Wind gusts 40-50 MPH Wednesday.
• Impacts: Hazardous travel conditions for early Tuesday and Wednesday. Isolated power outages due to wind on Wednesday.
Emergency officials are advising residents to take these facts into consideration when determining travel plans for the holiday.
Additional information regarding winter storm preparedness may be found at Ready.gov , or by clicking here.
Click LIKE to share this article with your friends on Facebook!