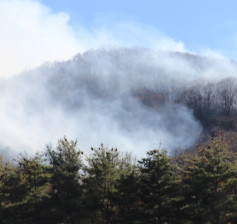 SPEEDWELL, Va. – According to the United States Forest Service, the forest fire atop Horse Heaven Mountain, south of Speedwell, has expanded to more than 200 acres and is expected to grow considerably prior to being extinguished. The fire is located entirely on national forest property and is not anticipated to become a threat to private property or county residents.
Approximately 68 federal and state firefighters are working the scene, including one hotshot crew, two dozers, two engines and a helicopter.
Despite the steep and rugged terrain of Horse Heaven Mountain, fire crews are digging containment lines and cutting trenches.
The Speedwell Volunteer Fire Department is on standby and has allowed their firehouse to serve as a base of operations for fire crews battling the blaze.
Wythe C...
Read More