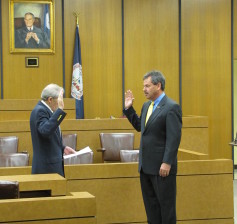 WYTHEVILLE, Va. – Steve Willis, East Wytheville's newly elected representative on the Wythe County Board of Supervisors, took the oath of office Friday afternoon.
Willis, who has lived in Wythe County since 1976, was surrounded by family as Clerk of Court Hayden Horney administered the oath.
"I would like to see Progress Park reach capacity with new businesses and opportunities for the people of Wythe County," answered Willis, when asked what he would hope to see accomplished while serving on the board.
An honors graduate from James Madison University, Willis has worked in the trucking and logistics industry since 1985.
After seventeen years of employment with Volvo Trucks, Willis left the company in 2002 to become general manager for Camrett Logistics.
The Wytheville based company...
Read More