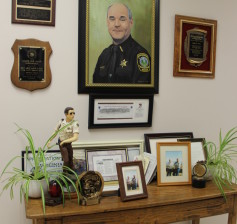 This Friday marks the nineteenth anniversary of the murder of Wythe County Sheriff's Deputy Cliff Dicker.
Dicker's watch ended Tuesday, December 6, 1994, when he was shot and killed by a juvenile suspect on whom he was serving papers.
Speaking from an interview room inside the county sheriff's office, Wythe County Sheriff Doug King spoke about Wythe County's only sheriff's deputy killed in action.
"I first met Cliff in 1983, when I started with the sheriff's department. Cliff was one of the guys I looked up to. He was always so professional in his behavior and appearance."
On the date of Dicker's slaying, King was attending training in Richmond. "They left a note on my door to call dispatch. It was one of the greatest shocks of my life. It was a huge loss to the community and an even bigger loss to the family," said King, adding, "He was just a decent and kind man who loved his family."
To mark the solemn date, the Wythe County Sheriff's Office has scheduled a full slate of events for Friday.
The day will begin with a memorial service inside the main conference room of the sheriff's department at 10:15 a.m. 1st Sergeant Mike Honaker of the Virginia State Police will speak at the ceremony, which will include a moment of silence at 10:24 a.m., the time the department's dispatch received the call stating that Dicker had been fatally wounded.
Later on Friday, the sheriff's office will be hosting the fifth annual Cliff Dicker Memorial Blood Drive, lasting from 12 – 6 p.m. The Red Cross sanctioned event will be held across the street from the Wythe County Sheriff's Office at the Fourth Street Civic Center.
Deputy Dicker was a fourteen year veteran of the Wythe County Sheriff's Office and served previously in the United States Air Force.
Click LIKE to share this article with your friends on Facebook!