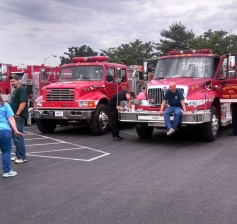 SPEEDWELL, Va. – Firefighters servicing Wytheville, Rural Retreat and Speedwell now have dozens of new fire hydrants at their disposal.
Last week, the Wythe County Water Department approved the use of fifty-six additional hydrants, stretching from East Lee Highway to the community of Speedwell.
The ten-mile line of hydrants will bring the countywide number to 366, not counting fire hydrants located within the town limits of Wytheville and Rural Retreat.
"Instead of having to haul water back and forth, fire crews will now be able to hook to the hydrants directly at the scene. This new process will save time and be a lot safer," stated Ikey Davidson, Wythe County's Emergency Manager.
The hydrants will be powered by an eight-inch waterline, pressured to provide a minimum of 500 gallons per minute to crews working blazes.
Installation of the hydrants is part of a greater county effort to supply residents in the community of Speedwell with a more reliable form of drinking water.
County officials are encouraging residents along the waterline's route to notify their insurance carriers of the new hydrants. The Insurance Information Institute states that residents close to a fire hydrant may pay less for insurance.
Click LIKE to share this article with your friends on Facebook!