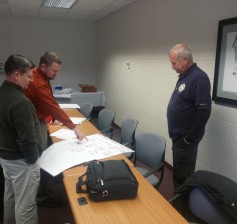 WYTHEVILLE, Va. – Two members of the Wythe County Board of Supervisors, the county's engineer, public information officer and director of emergency communications dedicated much of this week to preparing for unthinkable disasters.
The training is part of a national program launched by FEMA, known as the National Incident Management System (NIMS).
The purpose of the program is to establish a comprehensive, national approach to incident management by federal, state, territorial, Tribal and local responders.
Artie Hall, Vice Chairman of the Wythe County Board of Supervisors, says the training was very helpful.
"Unimaginable disasters occur every day across the nation. With the two interstate highways crisscrossing our county, preparedness needs to remain the foremost concern of the county," said Hall.
East Wytheville's newly elected board member, Steve Willis, agreed.
Willis said, "You can never prepare for every incident, but it's nice to understand have a basic understanding of the framework."
Also participating in the three-day training were officials from the Wytheville Community College, Town of Wytheville, as well as members of local law enforcement and fire and rescue services.
Several Wythe County employees have already participated in the training program.
Click LIKE to share this article with your friends on Facebook!