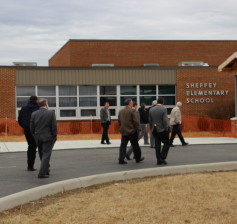 Following Tuesday's board meeting, members of the Wythe County Board of Supervisors toured two county schools undergoing construction.
Members first visited the Sheffey Elementary School, where renovation work began last summer. Construction efforts include modernization of facilities, adding classrooms and building an entirely new gymnasium.
The gymnasium will double as a community center, which county officials plan to use in providing recreational programs to local residents.
Coy McRoberts, Supervisor of the Lead Mines District, expressed his excitement in the new community center, stating, "I'm the most anxious man in the county to see this construction project completed."
The visit to Sheffey Elementary School featured a cafeteria lunch and guided tour, led by Dr...
Read More