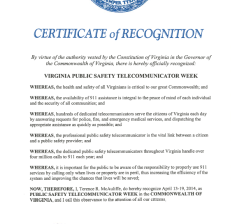 WYTHEVILLE, Va. – Last summer, Wythe County's combined emergency communications center began taking calls for the first time. The project was a join effort between the county and towns of Rural Retreat and Wytheville, made possible by hundreds of thousands of dollars in grant funding.
Consolidating the emergency dispatch centers from all three jurisdictions gave local leaders an unprecedented opportunity to implement more advanced tools; while at the same time splitting the high costs associated with manning a 24-7 emergency call center.
Nearly a year into the transitioning process, county officials are praising the move and celebrating National Public Safety Telecommunicator's Week.
James Copeland, Wythe County's Emergency Communications Director, says this week provides an opportunity to showcase the incredible work dispatchers do each day.
"A call to 911 is a call for help – no one ever wakes up in the morning expecting to call 911 that day – and our staff answers dozens of these calls each day," said Copeland, adding "This week gives the public an opportunity to say 'thank you' for the wonderful job they do."
Amanda Shelton – who is responsible for training new dispatchers – agreed, saying "New hires are often shocked to discover all that takes place in handling a single 911 call."
In addition to receiving a certificate of recognition from Virginia Governor Terry McAuliffe, thanking dispatchers for their hard work, the county is also encouraging followers on its social media pages to leave thank you messages to dispatchers.
Click LIKE to share this article with your friends on Facebook!