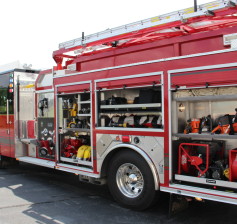 WYTHEVILLE, Va. – The Wythe County Department of Emergency Management was notified today that a recent grant application to the Wythe-Bland Foundation netted nearly $200,000 in grant funding for the county's emergency services.
The county's department of public information & grants submitted the application earlier this year, requesting funding on behalf of the nine non-profit fire and rescue organizations operating within the county.
"The funding provided in this grant will enable the purchase of several items our county's first responders have badly needed," stated Wythe County Emergency Manager, Ikey Davidson.
Those items include portable and mobile radios, helmets for firefighters, sets of turnout gear, as well as a thermal imaging camera, which will aid firefighters in navigating areas where zero visibility exists; increasing the odds of being found for individuals trapped inside a burning structure.
The grant was one of many awarded by the Wythe-Bland Foundation for the spring 2014 cycle.
Originally founded in 1991, the foundation was reorganized in 2005 and has since provided millions of dollars to non-profit organizations operating in Wythe and Bland counties.
Wythe County grant coordinator, Jeremy Farley says that local residents owe a debt of gratitude to the foundation, "The level of assistance they provide to our county's first responders is incredible. Thanks to their generosity, countless lives will be saved in the days to come."
Click LIKE to share this article with your friends on Facebook!