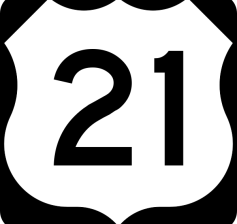 WYTHEVILLE, Va. – This week, Wytheville and Wythe County announced the first annual "Road Market Sale" along Historic US Route 21.
The event, scheduled for July 25, 26 and 27 is the product of the multistate initiative known as "Take a Break from the Interstate." This 70 mile long yard sale will span from Wytheville to Jonesville, North Carolina.
"The road market event has the potential to bring an incredible number of additional travelers to the community," said Wythe County Tourism Director Jeremy Farley.
Citing the level of cooperation needed between the communities along the route, Mary Jo Babbitt, Wytheville's Tourism Development Coordinator added "when you work together, you succeed."
Both partners agreed that the three-day event creates exciting opportunities for Wytheville and Wythe County.
Residents along Historic US Route 21 are encouraged to save the date and plan to participate in this 70 mile long road market event.
Citizens wishing to learn more about the event are encouraged to contact Frances Emerson at 223-3426 or drop by the Town of Wytheville's Department of Museums at 115 W. Spiller St. in Wytheville. The Wytheville Department of Museums is also giving away Historic US Route 21 "Take a Break from the Interstate" yard signs to residents living along the historic route.
Click LIKE to share this article with your friends on Facebook!