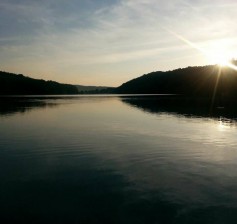 RURAL RETREAT, Va. – Over forty children braved the unseasonably cool temperatures last Saturday to participate in the Rural Retreat Lake's annual "Kids' Fish Day."
The event, which is part of a cooperative effort between the Wythe County Department of Parks & Recreation and the Virginia Department of Game & Inland Fisheries (DGIF), began at 9 a.m. and provided many children with their first opportunity to fish.
With DGIF trucks having stocked the lake's trout pond the previous evening, the county's youngest anglers were provided the first opportunity of the season to reel in one of Virginia's famous Rainbow Trout.
Assisting the fisherman were two DGIF field officers and Wythe County Parks & Recreation Director Kevin Williams. The pair of DGIF officers aided the children in fishing, as well as provided casting and reeling instructions, while Williams drew names for prize winners.
Though all participants left the event with a random assortment of gifts, a few lucky prize winners went home with new fishing poles and tackle boxes; courtesy of local businesses, including Sand Mountain Outfitters, Wal-Mart and Kmart.
Though the temperature remained in the mid-40s throughout the morning, by noon, the water had warmed considerably and smiling children could be spotted all along the banks of the pond proudly posing for pictures with their catch.
"It was great seeing the kids – many of them fishing for their very first time – having a fun time and enjoying themselves," said Williams.
Last weekend marked the first weekend of the season that the Rural Retreat Lake Campground was open to the public. Williams said the campground's first week reopened was huge success and park officials are looking forward to another fun-filled season at the iconic lake.
Individuals interested in reserving a campsite at the 90-acre lake are encouraged to call: 276-686-4331.