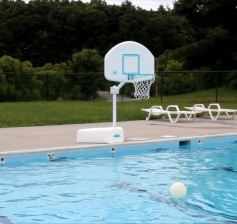 RURAL RETREAT, Va. — The Wythe County Department of Parks & Recreation will be hosting four aqua Zumba sessions throughout the month of July at the Rural Retreat Lake Pool.
The one-hour long sessions will be held on each Tuesday of the month and instructed by Infinity Fitness' Derek Ogle, a certified aqua Zumba instructor.
Aqua Zumba is Zumba in a swimming pool. The instructor leads the class from poolside while participants follow the shallow water workout. Moves have been specially adapted to combine the same dance movements used in a Zumba Fitness class with those used in aqua fitness classes, creating a fun and effective total body workout.
Participation in the class is open to all local residents ages 13 and over.
A $12 per session participation fee will be charged to each person participating in the weekly event in order to cover the program's costs.
"Aqua Zumba provides a unique and fun way to promote health and fitness. We're excited to see the new program launched and hope to have a large turn out for each of the sessions," said Kevin Williams, Wythe County Parks & Recreation Director.
Local residents wishing to participate in any one of the four sessions are encouraged to pre-register, either by calling 223-4519 or by filling out the form on the Rural Retreat Lake's official website (www.RuralRetreatLake.com). CLICK HERE to view the online registration form.
The four aqua Zumba classes are just a handful of summer activities scheduled at the Rural Retreat Lake Park & Campground. A full list of events can be viewed at the Rural Retreat Lake Park & Campground's website.
Click LIKE to share this article with your friends on Facebook!