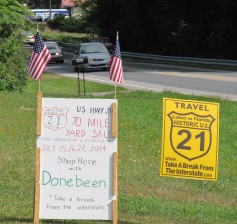 WYTHEVILLE, Va. — Organizers of the inaugural US-21 yard sale say the multistate, 70-mile long event was a great success.
Dubbed, "The US-21 Road Market Sale," tourism leaders throughout western North Carolina and Virginia say the event required months of planning and involved the cooperation of dozens of local leaders from at least eight different localities.
"The yard sale was a huge success. Putting the event on didn't cost any money, but took a lot of work from a lot of different people," said D.W. Miles, founder of the yard sale's flagship organization, "Take a Break from the Interstate."
Tourism leaders in Wythe County say they counted at least one-hundred different households participating in the road market sale, in their county alone.
"Not only did this weekend's yard sale all...
Read More