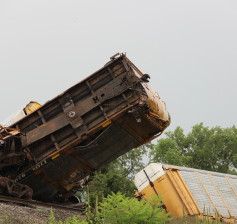 WYTHEVILLE, Va. –The Wythe County Joint Emergency Communications Center received an E-911 call at 6:12 p.m. on Monday, from a caller stating that a train had derailed near the intersections of Grayson Turnpike and Old Stage Road, in Wytheville, Virginia.
First responders arrived shortly thereafter and initially found at least nine train cars that had derailed.
Though no official evacuation was issued, emergency personnel did close parts of Railroad Avenue, as a precaution, until officials could confirm that the public was in no danger.
As the evening progressed, subsequent counts increased the number of derailed cars to fourteen, though no injuries were ever reported.
Many of the derailed cars contained automobiles, while others contained fingernail polish.
Local officials say the nail polish is classified as a HAZMAT Class 9 chemical.
Emergency personnel on the scene say they have not uncovered any spilled chemicals and, at this time, have no reason to believe the public or environment is in any danger.
Norfolk Southern will be responsible for clean-up efforts, which local officials say will take several days.
Additionally, county officials are urging citizens who live south of the Town of Wytheville along US-21 to seek alternative routes to work tomorrow, as the Norfolk Western train bridge, above Grayson Turnpike, is expected to remain closed throughout much of the day and possibly even longer.
Click LIKE to share this article with your friends on Facebook.