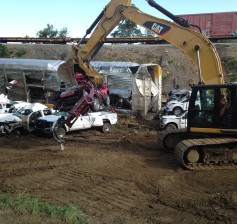 The Wythe County Joint Emergency Communications Center received an E-911 call at approximately 6:12 p.m. on Monday, July 14, 2014, from a resident stating that a train had derailed at the intersection of Grayson Rd.
Local emergency responders were first to arrive on the scene and found numerous train cars scattered on both sides of the track, beginning at the "Norfolk & Western" bridge, which spans over US-21, and continuing eastward.
Ikey Davidson, Wythe County's emergency manager, Albert Newberry, the Town of Wytheville's director of public safety, and Ronnie King, Wytheville Fire Chief, served as incident managers on scene. After assessing the situation, they, together with the trainmaster and other emergency personnel, determined that the public was in no immediate danger.  Due to this reason, the decision was made not to implement the county's new citizen alert system.
Immediately following the incident, police officers from the Town of Wytheville, with the assistance of Wythe County Sheriff's deputies, members of the Virginia State Police and local first responders instituted multiple roadblocks in order to keep the public safe. A base of operations was set up just north of the tracks, where first responders met to direct operations.
In total, fourteen train cars derailed, most of which were hauling Ford automobiles.
By 10 p.m., numerous representatives from multiple government agencies and private companies were on scene, including: local law enforcement and emergency responders, Norfolk Southern, Virginia DEQ, Virginia State Police, VDOT, Virginia Department of Emergency Management and several private contractors.
A press conference was conducted shortly before 11 p.m. with Albert Newberry, Ikey Davidson and Jeremy Farley fielding questions from reporters.  The purpose of the press conference was to notify the public that there had been no injuries or loss of life, as well as make local citizens aware of road closures and the fact that no hazardous materials had been found leaking.
By the following morning, Tuesday, the operation had transformed from the assessment and planning stage to the clean-up phase.  An army of crews and heavy equipment went to work on behalf of Norfolk Southern, clearing the railway line and stabilizing the wrecked containers.
By Tuesday afternoon, the final piece of track had been laid on the line and by nightfall Norfolk Southern had an engine on the tracks testing the new line.
News of the local train derailment quickly reached an international level, as outlets in Canada, UK and elsewhere began running Associated Press and Reuters articles of the event.
Five days later, traffic along US-21 is open to the public, albeit reduced to one lane, and much of the cargo has been loaded onto flatbed trucks and shipped out of the county.
Workers say the cleanup phase will take several more days, but hope to have Grayson Road (US-21) restored to normal driving conditions by the end of the weekend.
Evaluating the response of emergency crews, as well as overall derailment, Davidson said that the community was "very fortunate" to have undergone such an event without a single loss of life or injury.
"To undergo an accident of this magnitude and not have a single person injured is a rarity. We were very fortunate as a community."
Davidson went on to say that upon realizing there were no injuries or danger to the public, local officials transitioned their efforts to protecting local waterways.
"As a precaution, we directed booms to be placed in the streams surrounding the crash site, in order to protect Reed Creek. Thankfully, we have found no evidence of anything leaking into streams and waterways," said Davidson.
Click LIKE to share this article with your friends on Facebook!