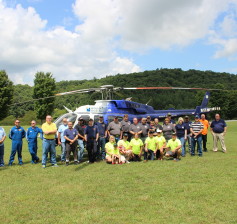 RURAL RETREAT, Va. – Wythe County leaders spent Saturday afternoon honoring the county's first responders.
This year's annual fire and rescue appreciation event was held at the Rural Retreat Lake Park and featured a catered meal, hundreds of dollars in door prizes and free helicopter rides, courtesy of Wings Air Rescue.
Jeremy T.K. Farley, who serves as Wythe County's spokesperson, said the event was a great success and thanked local businesses for sponsoring the festivities.
"It wasn't difficult finding sponsorship for this event. Everyone we spoke to was eager to show their appreciation for the county's first responders. They do a great service for our community and today provided us an opportunity to showcase our gratitude," said Farley.
Farley particularly thanked South...
Read More