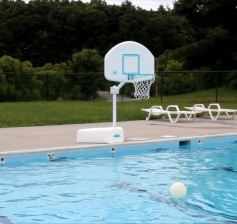 WYTHEVILLE, Va. – Wythe County Parks & Recreation Director Kevin Williams announced today that the Rural Retreat Lake Pool will be open – free of charge – to all local residents, Saturday, Aug. 23.
Williams says the county will be hosting a fire and rescue appreciation day at the park for families of the county's first responders.
"None of us could ever adequately thank the first responders who serve our communities. We do hope, however, that by opening the county's swimming pool up to the general public, free of charge, in their honor, we would at least be sending a message that we are aware of the work they do and appreciate it very much," said Williams.
The free swim day comes just one week before the pool's close for the season, which is slated for Labor Day weekend.
This week, with the start of school in Wythe County, the Rural Retreat Lake Pool changed its hours to weekend only, Saturday 12-6 p.m. and Sunday 1-6 p.m.
"We appreciate the county proclaiming a free swim day at the pool, in honor of fire and rescue responders," said Ikey Davidson, Wythe County's emergency manager.
Click LIKE to share this article with your friends on Facebook!