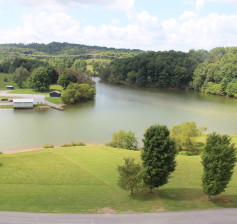 RURAL RETREAT, Va. – Campers in southwest Virginia will have one final weekend to enjoy Wythe County's Rural Retreat Lake Campground, as the campground is scheduled to close for the season this weekend.
Long celebrated as a favorite camping destination for local residents, the park's crowning attraction is the 90-acre lake, which is home to a variety of large fish, including Muskee, Northern Pike, Largemouth Bass and Channel Catfish. On its western end, the park has a fully stocked trout pond, which plays host to the annual Wythe County youth fishing day event.
Managed by the Wythe County Department of Parks & Recreation, the park boasts of several attractions, including walking and bicycle trails, a nine-hole Frisbee golf course, multiple children's playgrounds, picnic shelters, horseshoe pits, volleyball court, junior Olympic sized swimming pool and adjoining kiddy pool.
The park's campground offers a plethora of wooded campsites ranging from primitive sites to locations with full R.V. hookups.
The 2014 season was an especially busy one for the park, earlier in the season county officials unveiled a new website for the park, www.RuralRetreatLake.com.
Additionally, the county pool featured three dive-in movies, courtesy of local sponsors. Wythe County Parks and Recreation Director Kevin Williams said he would like to see the dive-in movies continued next year.
Lake officials wish to remind the public that although the campground will be closing this weekend, the shelters will remain open throughout the month and the lake is open to anglers year-round.
Camping at Rural Retreat Lake will re-open to the public next year.
Click LIKE to share this article with your friends on Facebook!