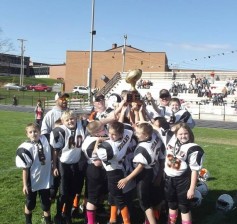 This past Saturday, Wythe County's Department of Parks & Recreation completed the 2014 youth football season for its varsity and junior varsity leagues.
In total, sixteen teams from Wythe and Bland counties competed in the ten week season, which culminated in Saturday's Super Bowl XIX games.
Held at the Rural Retreat High School, Super Bowl XIX's junior varsity championship game pitted the Rural Retreat Indians (WHITE) against the Wytheville Maroons (SILVER).  The Indians (WHITE) won that game by a score of 7-0, thanks to a 52 yard touchdown run by Brock Smelser.  Elijah Blevins earned the PAT on a 2 yard run into the end zone.
Later that afternoon, the Wytheville Maroons competed against the Max Meadows Pioneers in the 32-minute varsity game...
Read More