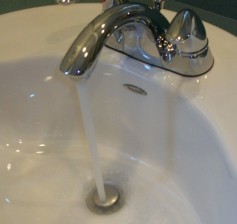 WYTHEVILLE, Va. – Wythe County water officials say some residents in the Ivanhoe area will be without water Thursday, for four to six hours, as workers transfer the county's water to newly constructed lines.
The affected areas will include all water customers in the Slabtown area, as well as those who reside along Ivanhoe Rd. within approximately one-half mile of the Slabtown intersection.
County officials say that despite the inconvenience, the temporary outage is necessary in order to ensure the waterline remains in top working order for years to come.
Many of the waterlines being replaced in the Slabtown area date back to the 1960s.
Over the past several years, Wythe County has launched a series of infrastructure projects, all aimed at updating the county's utilities.
Tim Reeves, chairman of the Wythe County Board of Supervisors says that these updates are necessary in order to bring additional jobs into the county.
"In order for Wythe County to be competitive on a global market, updates to our infrastructure must be made – not just for businesses and industries, but also for residents," said Reeves.
Click LIKE to share this article with your friends on Facebook!