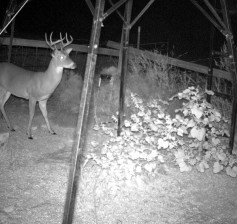 WYTHEVILLE, Va. – Wythe County Code Enforcement Officer A.B. Dunford is warning local hunters that improperly disposing of animal carcasses is a crime punishable by up to twelve-months in jail and $2,500.
Dunford says the class-I misdemeanor is part of the Code of Virginia and that his office is aggressively enforcing littering violations.
According to the veteran law enforcement officer, each autumn, countless deer carcasses are illegally dumped along roadways, in right-of-ways and on private property; creating an eyesore, foul odor and public health risk.
"Instead of illegally dumping the carcasses of harvested deer, hunters need to either bury or cremate the remains of the animals," said Dunford, adding that the Wythe & Bland County Transfer Station, located at 169 Kents Lane, just outside of Progress Park, is also accepting deer carcasses; however, Dunford stated that there is a fee attached to disposing of game at the transfer station.
In recent months, Wythe County has launched an anti-littering campaign, aimed at curbing illegal dumping.
Aiding officers in the campaign are hidden cameras placed throughout the county's high traffic dumping areas. Thus far, code enforcement officers have successfully secured several convictions for illegal dumping, including one within the past month.
With tens of thousands of acres in national forest lands, county tourism leaders say that large game hunting is a proud tradition of the community and something they fully support, but add that hunters have a responsibility to their neighbors to properly dispose of their harvested game.
Click LIKE to share this article with your friends on Facebook!