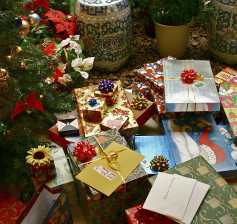 WYTHEVILLE, Va. – This coming week, tens of thousands of Wythe County residents will be celebrating Christmas by opening what will equate to truckloads of wrapping paper and disposing of tons of cardboard boxes.
In an effort to accommodate the drastic increase in discarded material that will be received at the county's convenience centers this week, Billy Bowers, Wythe County's Solid Waste director, is encouraging residents to place their used wrapping paper and cardboard boxes into the convenience center's recycling bins – as opposed to mixing them in with their regular trash.
"Most county residents would be astonished to realize how much money they save the county simply by recycling paper products rather than mixing them in with their regular trash," said Bowers, adding "This time of year, we see a heavy increase in the disposal of paper products, such as cardboard and wrapping paper.  By recycling these products, citizens will assist us in putting these items back into use, minimizing the costs of trash disposal and save space in crowding landfills."
Residents who live in the county have already demonstrated their willingness to recycle, as the county leads nearly every jurisdiction in our region in the total weight of recycled materials.
Bowers requested that residents who do recycle their cardboard boxes break them down, as unbroken boxes will take up more space at the centers during their busiest time of year.
The Wythe County Convenience Centers will be closed on Christmas Day and New Year's Day.
Click LIKE to share this article with your friends on Facebook!