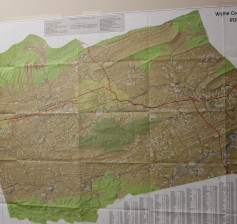 WYTHEVILLE, Va. – The Wythe County Administrator's Office has unveiled the 2015 Official Wythe County Road Map.
In addition to including all named roads in the county, the 27" x 40" map includes other details such as an index to county facilities; these facilities include solid waste & recycling centers, county libraries, schools and emergency services buildings.
Displaying the route of the popular New River Trail, a 57-mile linear state park that follows an abandoned railroad right-of-way, as well as elevation markers and detailed views of area communities, the maps are certain to appeal to a highly diverse audience.
"Even in the age of GPS and mobile mapping, we're finding that paper maps are still in great demand. For many businesses and individuals, it's simply quicker to glance at a map hanging on the wall to find a specific location, rather than go through all the hassle that often accompanies using a computer generated map. We listened to local businesses and are pleased that the 2015 county map will meet all of their needs." said Tim Reeves, Chairman of the Wythe County Board of Supervisors.
The reverse side of the map focuses on the Town of Wytheville, offering travelers a closer look at the town's roadways and points of interest.
The maps are available to the general public at a price of only $2 — just enough to cover the costs associated with producing and distributing the foldable documents — and may be purchased at the county administrator's office or the Town of Wytheville's Municipal Building.
Click LIKE to share this article with your friends on Facebook!