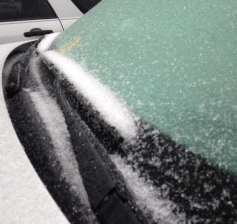 WYTHEVILLE, Va. – Emergency officials in Wythe County are urging drivers to take extraordinary precautions this afternoon, as heavy sleet is creating hazardous driving conditions on roadways throughout the region.
According to the county's E-911 dispatch center, multiple accidents have been reported on Interstate – 81 over the past hour and officials with the Virginia Department of Transportation (VDOT) are advising residents to avoid "unnecessary travel."
All of Southwest Virginia remains under a winter weather advisory, as meteorologists with the National Weather Service (NWS) are forecasting freezing rain, sleet and snow throughout the remainder of the day.
Snow and sleet accumulation totals are expected to reach anywhere between one to four inches.
According to a statement from NWS, "Periods of snow, sleet, or freezing rain will cause travel difficulties." The federal meteorological service has asked drivers to "be prepared for slippery roads and limited visibilities… use caution while driving."
In a statement released this morning from VDOT, officials cautioned motorists: "With snow, rain and sleet falling in many areas of southwestern Virginia this morning and continuing today, motorists are advised to know conditions before traveling and postpone unnecessary travel."
In addition to creating unsafe driving conditions, today's ice storm has left more than 500 customers in Wythe County without electricity, according to Appalachian Power.
As is always the case throughout the winter months, local households are urged to ensure secondary, non-electric sources of heat are in place, should the event of a power outage leave residents without electricity.
County residents are also encouraged to proactively check on their neighbors, especially the elderly and handicapped, during times when power outages are most possible.
Individuals with specific emergency needs should dial 911.
Click LIKE to share this article with your friends on Facebook!