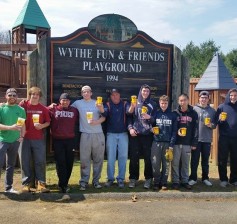 WYTHEVILLE, Va. – This past week ten volunteers from eastern Pennsylvania logged over 350 man-hours assisting Wythe County Parks & Recreation crews at Ager Park.
The volunteers were high school seniors from St. Joseph's Prep School located in Philadelphia. Founded in 1851, St. Joseph's is a boys' prep school dedicated to "developing boys into men who work for and with others."
In keeping with this mission, the school requires its seniors to log no fewer than 40 hours of community service – a requirement many of the students chose to fulfil in Wythe County, Virginia.
Wythe County youth sports coordinator Scotty Vaught said the eight students and two adult leaders from the school made dozens of needed repairs to the playground as well as painted all of the equipment located on the grounds of Ager Park – including areas around the ball fields.
"We were all very impressed with these young men. They got along with each other so well and gladly did whatever they were asked to do – they truly are model young men," said Vaught.
When they weren't working, the Pennsylvania seniors who were on spring break toured the region.
According to Gail Hall, volunteers from St. Josephs have been coming to Wythe County for seven years now, having performed community services in the towns of Rural Retreat and Wytheville.
Hall says that it is through this program that many of the mascots in the county's public schools have been painted onto the walls of gymnasiums.
Hall's daughter, Jayne, housed the students in Rural Retreat.
Bojangles of Wytheville provided the students with lunch on their final day of service.
Following their work Ager Park opened to the general public for the 2015 season.
County officials are asking visitors to the park to be mindful of the many volunteers who invested their spring break into restoring the park and are requesting that visitors do their part to keep the park clean and safe.
Click LIKE to share this article with your friends on Facebook!