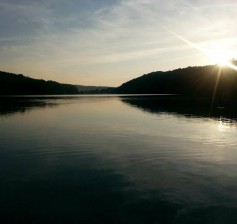 Rural Retreat, Va. – Wythe County's Rural Retreat Lake Campground Park will be hosting "Kids Fishing Day," Saturday, May 16th.
The annual initiative, which is intended to encourage youth to become anglers, is made possible thanks to a cooperative partnership between the Wythe County Department of Parks & Recreation and the Virginia Department of Game & Inland Fisheries (DGIF).
Registration for the free event is set to begin at 8:30 a.m. at the lake's trout pond, with youth fishing commencing at 9 a.m. and lasting until 1 p.m.
During this time, fishing at the lake's stocked trout pond will be reserved exclusively for children ages 15 and under. Adult supervision is required for all participants.
Upon registering, participants will be entered into a drawing for multiple prizes – county workers will be drawing winners throughout the day.
In addition to having DGIF wildlife experts on site, instructors from Trout Unlimited will also be providing participating children and their parents with instructions on how to fly-fish.
"This is an annual event which seems to keep getting better each year," stated Kevin Williams, Wythe County Parks & Recreation director.
Williams said members of the Rural Retreat Wythe County Fair Association will be setting up a concession booth at the lake's camp store, selling drinks and hotdogs to park visitors during kid's fishing day.
"We're excited about the level of participation the local community has shown for this year's kids' fishing day – local businesses donating prizes, community organizations promoting it, even families participating – all of this is necessary," said Williams.
Though the lake remains open year round for fishing, boating and hiking, the campground opens to the public on Friday, May 15th.
"We're hoping local families will make a weekend of this event and camp at the lake Friday night, then participate in the youth fishing event Saturday morning," stated Williams.
According to park officials, campers who reside in Wythe County will receive a 10% discount throughout the entire 2015 season.
The trout pond will reopen to the general public after the event has ended. The Rural Retreat Lake will remain open to anglers of all ages throughout the entire day Saturday.
Individuals interested in camping at the Rural Retreat Lake Campground are encouraged to make a reservation by calling 276-223-4519.
Click LIKE to share this article with your friends on Facebook!