INDEPENDENCE, Va. – Wythe County's 2015 Dixie Youth Baseball season came to a heartbreaking end Saturday with the defeat of Wythe-West in the AAA District – I tournament championship game (ages 8-10) to Floyd County.
The season came to a close for county teams in the Ozone Division (ages 11-12) the previous day, when Wythe-East fell to Floyd County by a margin of 13-3 in the district championship game.
The double elimination tournament was hosted in Grayson County and had five all-star teams participating in the AAA tournament and four teams listed in the Ozone bracket.
Despite falling in the final game to Floyd County by a score of 11-20, Wythe-West won game 8 of the tournament against Floyd County earlier Saturday morning 13-2, forcing the showdown in game 9.
All-stars from Wythe County's regular Dixie Youth season were selected to play on the 12-player teams representing eastern and western Wythe County.
Both Floyd County's AAA and Ozone teams will now advance to the state's Dixie Youth tournaments, which will be held in Madison Heights and South Boston, respectively – the winning teams of these tournaments will advance to the Dixie Youth World Series, which will be held in Lexington, South Carolina, the second week in August.
Scotty Vaught, who serves as Wythe County's youth sports coordinator, said the 2015 Dixie Youth season turned out to be a great success and that he enjoyed watching the young athletes develop their skillsets throughout the regular season and into the tournament.
"A lot of hard work went into making all of this possible for the students and we want to give a big thanks to the volunteer coaches and parents who sacrificed so much of their time," said Vaught.
Click LIKE to share this article with your friends on Facebook!
Red Team: Wythe – East (Ozone Tournament Runner-up)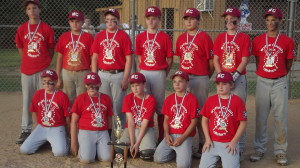 Grey Team: Wythe – West (AAA Tournament Runner-up)