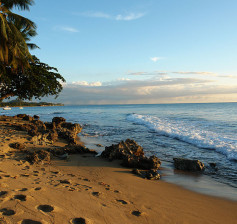 At more than 2,500' above sea level, Rural Retreat, Virginia, is the highest point on Norfolk-Southern's entire railway line between Norfolk and New Orleans, Louisiana.
Despite the community's elevation, however, the Rural Retreat Depot Foundation will be hosting a beachfest music event Saturday, August 1 at the Rural Retreat Fairgrounds.
At least four beach music bands are slated to perform at the event, including Jim Quick & Coastline, Band of Oz, Fantastic Shakers and the Atlantic Groove Band.
Gates for the event will open at 11 a.m. with the first band set to begin at 1 p.m. Live entertainment is slated to continue throughout the afternoon, wrapping up sometime around 9 o'clock that evening.
"This is going to be a fun way to wrap up summer," said Vicki Sprouse, who is the organizer of the event.
Among the entertainers on tab for the show will be Fantastic Shakers, a Carolina band first organized in September 1978 and known as the "South's Finest Show Band."
Sprouse says that admission to the all-day event has been set at $20 per person and that concessions will be available – the concert is a 'bring your own chair' event.
Proceeds from the beachfest will be used in the restoration efforts of the Rural Retreat Depot, a historic railroad station located in the heart of downtown Rural Retreat.
Built around the year 1870, the structure is one of the oldest railroad stations in southern Virginia, and one of only two to survive from the American Reconstruction Era.
Sprouse and local leaders in Rural Retreat hope to see the historic building fully renovated so that it can become an epicenter for activity in the community.
"We're working with Virginia Tech to bring events to the depot and believe that the facility will be an asset to Rural Retreat," said Sprouse, adding, "The building will provide numerous cultural enrichment and educational opportunities for local residents."
The depot is already being used on Wednesday afternoons for a local farmers market, as well as
periodical auctions and other events.
Individuals interested in learning more about the Rural Retreat Beachfest or the Rural Retreat Depot
Foundation are encouraged to contact Vicki Sprouse by calling 276-356-3235 or via email:
storagetogo@hotmail.com.
Click LIKE to share this article with your friends on Facebook!