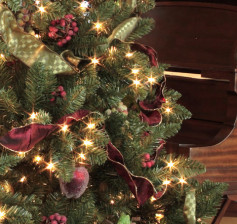 WYTHE COUNTY, Va. – Wythe County officials are calling on local artisans and crafters to produce a Christmas ornament worthy of being displayed inside the Virginia Executive Mansion.
The theme for this year's decorations is "Celebrating Virginia's Localities."
"The Executive Mansion is looking for a one-of-a-kind, handmade ornament from each county that uniquely represents some feature of the county," stated an official representing the Virginia Association of Counties (VACo).
Local residents, 16-years-old or older are encouraged to create a hand crafted ornament that is a representation of a Wythe County landmark (either historic or modern) and submit it to the county administrative office (340 S. Sixth St., Wytheville) by September 21, the last day ornaments will be received.
After all ornaments have been accepted, Wythe County will judge the ornaments based upon a number of factors, including originality, aesthetic charm, as well as how well the ornament captures the spirit of Wythe County.
In addition to having their ornament displayed on a tree inside the ballroom of the Virginia Executive Mansion, the winning designer will receive a $200.00 cash prize for their work.
County officials say that all ornaments should be handmade, not purchased, and have the name of the artist and locality (Wythe County) on the back.
Runner-up ornaments will be used to decorate a Christmas tree inside the Wythe County Court House.
All winning ornaments will be retained to decorate future trees at VACo.
Individuals wishing to learn more about the contest are encouraged to contact Jeremy T.K. Farley: (276) 223-4522 or wythepio@wythecounty.org.
Click LIKE to share this article with your friends on Facebook!