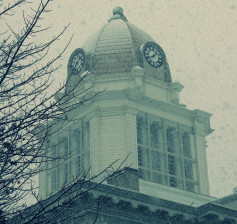 WYTHEVILLE, Va. – This afternoon, the National Weather Service in Blacksburg issued a 'Hazardous Weather Outlook' statement for much of Southwest Virginia, including Wythe County and all of the localities surrounding it.
 According to the special weather statement, "There is an increasing potential for a winter storm Thursday night into Saturday which could produce significant impacts to travel.  Significant snow accumulations are possible."
 Though forecasters admit that it is still too early to know exactly how much snow and/or ice will fall, they cautioned that the likelihood for a late-week winter storm is high.
 Overall, the weather event is expected to extend from Georgia to Massachusetts, however, the storm will be most severe along the Virginia—West Virginia border, stretching as far northeast as New York City.
 In the meantime, residents of Wythe County should expect low temperatures throughout Tuesday night and into tomorrow (tonight's low is predicted to dip to 10°F), before things will gradually warm to 42°F Thursday, on the eve of Friday's winter storm.
 Early Friday morning, National Weather Service meteorologists are forecasting, "Rain showers likely before 1am, then rain and snow showers likely between 1am and 4am, then snow showers after 4am. Low around 28. Chance of precipitation is 80%…"
 Current forecast models are calling for snow showers throughout Friday and into Friday night, with a chance of additional snow accumulation on Saturday.
 Wythe County's emergency management team is reminding local residents of the need to have a fully stocked emergency supply kit.
 "Cold weather and snow storms are all a normal part of winter in Southwest Virginia, however, failure to be properly prepared could have tragic consequences," stated county spokesperson Jeremy T.K. Farley.
 Echoing the Virginia Department of Emergency Management, Farley said the best way for residents to stay safe during a winter storm is to avoid unnecessary travel, dress in multiple layers, keep dry, as well as have secondary non-electric sources of heat in place – due to the fact that power outages are common following winter storms.
 The county is also urging its citizens to keep an emergency supply kit in their vehicles.  Vehicle emergency supply kits should include an ice scraper, blankets, flashlight and a first aid kit.
 Wythe County Animal Control officials are reminding county residents to ensure all pets have adequate shelter.
 Local residents are also encouraged to proactively check on their neighbors, especially the elderly and handicapped.
Click LIKE to share this link with your friends on Facebook!