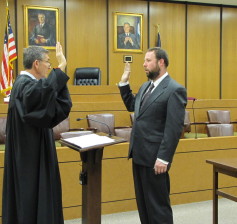 WYTHE COUNTY, Va. – Lifelong Wytheville resident Charlie Lester officially became Wythe County's newest representative on the Board of Supervisors, representing the residents of West Wytheville, this past Friday. Lester was sworn-in by Judge Josiah Showalter earlier in December in the Wythe County Circuit Court Building following his unchallenged election in November.
The 33-year-old Republican replaces fellow George Wythe High School alumni Artie Hall, who chose not to seek reelection.
Lester is the owner of Southwest Soda Clean, LLC, and is a fifth-generation Wythe County resident.
When asked about his vision for the future of Wythe County, Lester stated that he would work to ensure economic development remains at the forefront of the county's activities.
"My attention will be gea...
Read More