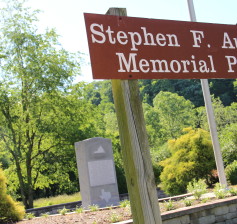 WYTHEVILLE, Va. – The Stephen F. Austin Birthplace Memorial is nearing its 20th birthday and community leaders in Wythe County are working to ensure the monument is given the attention it so desperately requires.
Stephen F. Austin was born on the banks of the New River in Austinville, Virginia, and in later life he would come to be known as the "Father of Texas", dedicating his life's work to colonizing what was destined to be the largest state in the continental United States.
"Austin's impact upon the world's history – not just American history – is immeasurable," said Wythe County Tourism Director Jeremy T.K. Farley, adding, "and he was born right here in Wythe County!"
Recognizing Austin's contribution to history, civic leaders in Austinville set out to erect a monument in his honor in the mid-1990s and with help from Wythe County, local donors and supporters in Texas, that monument became a reality in 1997.
Unfortunately, over the course of time, many of the original caretakers of the monument aged and reached a point where they were no long capable of maintaining the memorial.
Today, the monument's flower bed is in need of work, the stones are coming apart at the foundation and the flags of Texas, Virginia and the United States are no longer flying high above the New River.
According to Farley, his office was contacted by several local citizens in the Austinville community who were interested in restoring the memorial back to its original splendor.
In an effort to better organize individuals who may be interested in lending a helping hand, Farley said the Wythe County Genealogical and Historical Association, located at 165 S. 11th Street, in Wytheville, has agreed to host a public meeting at 7p.m. on Thursday, March 10.
"The meeting is open to the public and our main goal will simply be to organize ourselves into a single coalition dedicated to repairing and preserving the monument," said the county tourism official.
According to Farley, several local residents have already been working at the site and the level of interest continues to broaden.
The office of Congressmen Morgan Griffith is donating an American flag that once flew over the Capitol Building to the monument; flags that flew over the capitol buildings of Virginia and Texas are also en route, thanks to the work of Delegate Jeff Campbell and the donation of a Texas-based Stephen F. Austin organization, respectively.
Individuals wishing to learn more about the efforts to restore the monument are encouraged to attend Thursday evening's meeting or contact Wythe County Tourism Director Jeremy T.K. Farley (phone: 276-223-4522 or wythepio@wytheco.org).
Click LIKE to share this article with your friends on Facebook!