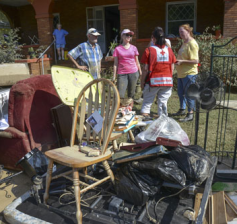 Jeremy T.K. Farley — June 29, 2016
Wytheville, Va. – This past week, the State of West Virginia suffered historic flooding which left dozens dead, hundreds homeless and countless communities destroyed.
With such a great tragedy occurring so close to home, Wythe County officials reached out to the American Red Cross this week to find out how local citizens can lend a helping hand to our neighbors in the Mountain State.
Lee Clark, Chief Operating Officer of the Roanoke Red Cross stated that the best way local citizens could help would be by making a monetary donation to the American Red Cross, which can either be done online by clicking the donate button at www.RedCross.org (then selecting "West Virginia Floods") or by calling the American Red Cross at 800-733-2767.
The Red Cross als...
Read More