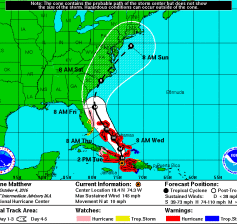 Jeremy T.K. Farley — October 4, 2016
WYTHE COUNTY, Va. – Thursday afternoon, Wythe County's Emergency Management Team participated in a conference call with officials from the Virginia Department of Transportation and the National Weather Service (NWS) in preparation of Hurricane Matthew's landfall in the continental United States.
Forecasters emphasized that at this time, it is impossible to definitely predict the storm's path; however, at 2 p.m. on Tuesday, National Weather Service models seemed to be showing the category 4 hurricane turning north and brushing the east coast.
Early forecasts show the storm's eye making landfall at 8 a.m. on Saturday, near the North Carolina – South Carolina coastline.
Though Virginia emergency officials were quick to caution that the storm's tracking remains "very fluid", they stated that the area of greatest concern remains localities east of the Blue Ridge.
Jason Busick, Wythe County's Emergency Manager, said that at this time emergency officials are not expecting Southwest Virginia to experience any significant danger from the storm, but warned that residents need to be prepared in the event that the storm was to shift its path.
"It's always a good idea for citizens to be prepared and we simply want to take this opportunity to remind residents of the need to have an up to date emergency supply kit," said Busick.
The Red Cross recommends that every family's emergency supply include a 3-day supply of water, non-perishable food, flashlight, battery-powered radio, extra batteries, first aid kit and a seven-day supply of medication.
Wythe County emergency officials will continue to monitor the storm and will advise the public should any additional information come available.
Citizens are reminded to remain vigilant and to look after neighbors should the county be affected by the hurricane.
Share this article with your friends on Facebook!