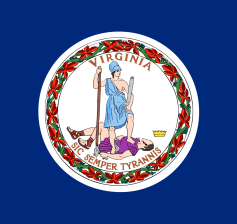 WYTHE COUNTY, Va. – On November 8, 2016, our nation will select a President for the 58th time in its history.  Along with more than 120 million other Americans across the land, the residents of Wythe County will have an opportunity to participate in this exciting and critical process.
With that being said, it is important for voters in Wythe County to be aware of the many voting laws in place, designed to safeguard the election, as well as to be aware of the other items that will appear on the ballot.
County residents will be faced with four separate decisions on their election ballots this year: choices for President & Vice President, US House of Representatives, and two proposed amendments to the Virginia Constitution.
The first proposed amendment would make Virginia's present right to work law part of the Commonwealth's constitution.
The second proposed amendment would provide localities an option "…to exempt from taxation the real property of the surviving spouse of any law-enforcement officer, firefighter, search and rescue personnel, or emergency medical services personnel who was killed in the line of duty…"
Additional information concerning the proposed amendments may be found at the following link: http://elections.virginia.gov/election-law/proposed-constitutional-amendment-2016/index.html
Polls will be open on Election Day (November 8) from 6 a.m. to 7 p.m. Individuals uncertain of where their local polling place is located may contact the county registrar's office (276-223-6038) or simply look on their voter ID card.
Under Virginia law, all voters must present one of the following forms of photo ID while at the polling place: valid Virginia driver's license, DMV-issued photo ID card, valid US passport, valid employee photo identification card, other government-issued photo identification card, valid college or university student photo ID card (issuer must be an institution of higher education located in Virginia). Individuals who do not have an acceptable form of identification may contact Wythe County's voter registration office (phone number listed in above paragraph) for a free ID.
In addition to overseeing the polls on November 8th, the county's registrar's office will also provide opportunities for absentee voting, either via US Mail (deadline to register for absentee voting via US Mail has passed) or in person at the county's registrar's office (245 S 4th St, Room #101, Wytheville, Virginia); however, under Virginia law, not everyone is permitted to participate in absentee voting – a full list of eligible reasons for absentee voting may be obtained by visiting: elections.virginia.gov/casting-a-ballot/absentee-voting/
The county registrar's office will be open to eligible absentee voters as well as citizens wishing to obtain more information Monday through Friday, 8:30 a.m. to 4:30 p.m. and on Saturday November 5th between 8 a.m. and 4 p.m.
Share this article with your friends on Facebook: