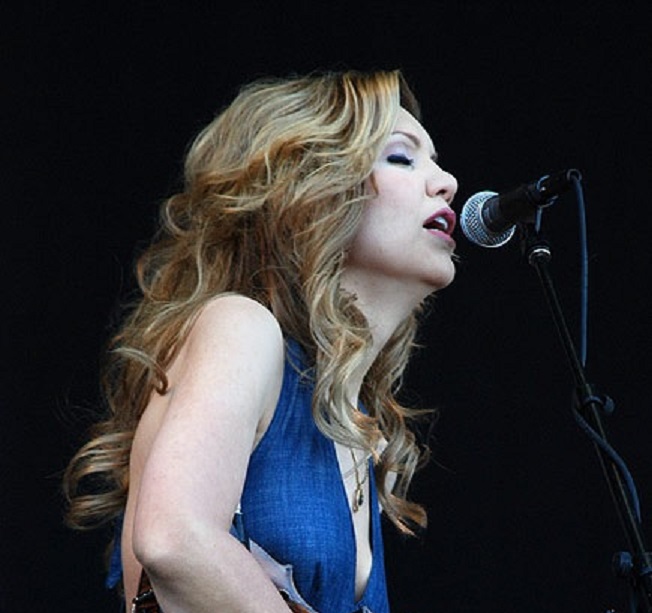 This Saturday evening, award-winning Nashville songwriters Paul Overstreet and Brett James will be hosting a unique performance at the George Wythe High School.
The duo have written dozens of iconic, chart-topping country hits over the past three decades and this weekend, they'll not only be performing the songs they've written, but also sharing the fascinating stories surrounding each song's creation.
The pair's songs include hits by Kenny Chesney (She Thinks My Tractor's Sexy and Out Last Night), as well as Rascal Flatts, Jason Aldean, George Jones, Blake Shelton and Randy Travis (On the Other Hand, Diggin up Bones, and Forever and Ever, Amen).
Overstreet, who was once married to Dolly Parton's sister, began his career in the early 1980s and has written or co-written 27 Top Ten songs. During this time, he has won two Grammy Awards and also ACM and CMA Song of the Year Awards (1987 and 1988).  He is perhaps best known for writing Forever and Ever, Amen and On the Other Hand, both of which were number one songs for Randy Travis.
The Mississippi native also co-wrote When You Say Nothing at All, which was a number one hit at the end of 1988 for Keith Whitley and later propelled newcomer Alison Krauss to stardom.
Overstreet and Don Schlitz came up with When You Say Nothing at All at the end of an otherwise unproductive day. Strumming a guitar, trying to write their next song, they were coming up empty. "As we tried to find another way to say nothing, we came up with the song," Overstreet later told author Ace Collins. They thought the song was okay, but nothing special. "But when Keith Whitley heard it, he loved it, and was not going to let it get away."  
Whitley had already passed on a previous Overstreet-Schlitz composition that became a No. 1 hit for another artist – Randy Travis' On the Other Hand. Whitley did not plan to let "When You Say Nothing at All" meet the same fate.
Sadly, Whitley died in 1989, the year following the release of When You Say Nothing at All.
Five years following Whitley's death, 23-year-old bluegrass fiddler and vocalist, Alison Krauss, recorded the song for a tribute album to Whitley.  
After Krauss's cover began to receive unsolicited airplay, BNA Records, the label that had released the album, issued Krauss' version to radio in January 1995.  
Its success, as well as that of the album, caught Krauss by surprise. "It's a freak thing," she told a Los Angeles Times reporter in March 1995. "It's kinda ticklin' us all. We haven't had anything really chart before. At all. Isn't it funny though? We don't know what's goin' on….The office said, 'Hey, it's charting,' and we're like, 'Huh?'"
Also performing at this weekend's concert will be Grammy Award-winning songwriter and producer Brett James.
In 2009, James achieved the Music Row "Triple Play," an award for three #1 songs in a single chart year, not once, but twice! His six number one hits included It's America, Rodney Atkins; Out Last Night, Kenny Chesney; Cowboy Cassanova, Carrie Underwood; Summer Nights, Rascal Flatts; The Truth, Jason Aldean; and The Man I Want To Be, Chris Young.
James' other hits include Jesus Take the Wheel, Who I am, and Martina McBride's Blessed.
The concert, which is scheduled for 7 p.m. on Saturday, December 10, will be held at George Wythe High School's auditorium and will serve as a fundraiser for the APEX Center, a +2,000 seat arena that will be constructed near Fort  Chiswell.
"This weekend's show will provide only a small taste of the type of events the APEX Center will be hosting on a regular basis," said Matthew Miller, chairman of the Appalachian Expo (APEX) Authority.
Advance tickets are available for purchase ($20 each) at several area locations, including, Guynn Furniture, Wytheville-Wythe-Bland Chamber of Commerce, GWHS FFA, WYVE, Farm Bureau, S&W Fertilizer, Farm Credit, Town of Wytheville Office, Farmers Milling, First Bank & Trust, RRHS FFA, Dutch Pantry, FCHS Senior Class and FM94.
Tickets will also be sold at the door.
Share this article with your friends on Facebook: