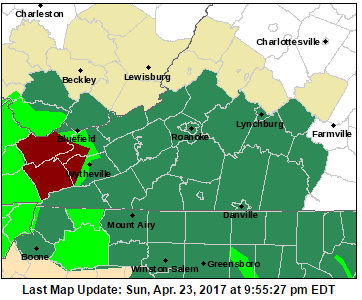 Shortly before 8:30 Sunday evening, the National Weather Service in Blacksburg, Virginia, issued a Flash Flood Warning for Smyth and Tazewell counties, as well as the western portions of Wythe and Bland counties in southwestern Virginia.
The warning remains in effect until 2:15 AM, however, this may be extended (residents are encouraged to monitor weather.gov for the latest flood warnings and watches).
"At 8:20 PM, emergency management officials reported flooding in many areas across Smyth and western Tazewell counties.  Numerous roads are currently being closed across Smyth County as a result of excessive rainfall and flooding. Flooding of some roads and structures has also been reported in western Tazewell County. The public has also reported flooding in western Bland County," stated a report from the National Weather Service.
As of 10 p.m., no flooding has been reported in Wythe County, however, the county's emergency management team is closely monitoring the situation.
Rainfall of 3-4 inches has been common across the area during the past two days and additional rainfall of 1-3 inches is likely during the next 24-36 hours.
Residents are encouraged to be especially cautious at night when it is harder to recognize the dangers of flooding.
A Flash Flood Warning means that flooding is imminent or occurring. If you are in the warned area move to higher ground immediately. Residents living along streams and creeks should take immediate precautions to protect life and property.
When it is safe to do so, please send your reports of flooding, including mudslides or flooded roads, to the National Weather Service by calling toll free at 1-866-215-4324.
Reports and pictures can also be shared on the National Weather Service Blacksburg Facebook page and on Twitter.
Share this article with your friends on Facebook: