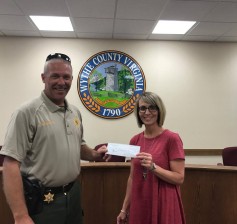 WYTHE COUNTY, Va. – Dr. Brian Pettit and his wife Stacey moved to Southwest Virginia in 2013 and soon afterward launched a dental practice in the heart of Wytheville.
It was during this same time that the couple visited the local dog shelter and adopted a boxer named Ember.
"Rescuing Ember opened our eyes to the way dogs should be treated," said Stacey Pettit, adding, "Ember quickly became a very important member of our family."
It was because of the couple's newfound love for their boxer that Stacey began volunteering at the Wythe County Animal Shelter.
Pettit, along with several others, arrive at the shelter at 8:30 in the morning and walk the dogs being housed, as well as give them "love and treats."
"We just want to make for sure that the dogs have an opportunity to get...
Read More